Child Care Perspectives And Options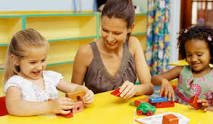 The phrase child care is a broad term used to describe any number of arrangements or settings in which the primary responsibility is caring for a young child. There are as many different settings as there are definitions of quality in child care. The number of young children under the age of five who were cared for a portion of their day by adults other than the custodial parents increased dramatically from the early 1980s to the early 2000s largely because of the increase in the number of mothers who had joined the workforce. According to the 2002 Quality Counts survey conducted by Education Week newspaper, approximately six out of every ten children, or 11.9 million children, ages five and younger were being jointly cared for by parents and early childhood educators, other child-care providers, relatives, or others.
While many parents may prefer to stay home with their infants or young children, this is not a financial option for most. Whether by choice or necessity, the majority of mothers are now working. Approximately one out of four young children is in a single parent home.
Historical View of In-Home Child Care
Mothers have not always had the primary role of caring for their children in their home. Over the years children have been cared for at home by a variety of caregivers including, but not limited to, servants, slaves, wet nurses, and mammies. Even in recent history the more modern views of mothers staying at home to care for the children while the fathers work was largely a myth. Many homes of middle income or above continued to have black domestic servants as late as the 1950s.
There are several types of child care available to families of young children. In-home care is one type of care families choose that allows the child or children to remain in their home environment. In this model of care the provider either comes to the home or lives part-or full-time in the child's home with the family. Frequently a relative is the person providing the care, and in this situation it is not required that a child-care license be obtained. In-home day care is one of the only unregulated forms of child care in existence today. Other forms of child care, such as family day homes, center care, and corporate child-care centers, have become highly regulated systems with states determining how programs are evaluated and monitored and by whom.